The Crozat Family Foundation
Our Family Foundation Motto
We want to give cars to people with extenuating circumstances, where something unexpected, unforeseen, and unavoidable has happened. A tragedy or health issue…not a lack of responsibility or ability to run their lives on their own accord.
We offer refurbished cars to those who have hit a pothole in the road of life.
About Our Foundation
The Crozat Family Foundation was born from a long-standing tradition of helping those in need of assistance in our community.  As G&C Founder, Gene Crozat, has said more than a few hundred times, "it is our responsibility to help our fellow men."  What started as a 'Car-A-Month Giveaway' on various local radio stations has grown into a foundation that provides support to the individuals and families we meet through the car giveaway.  We hope to help the recipients get back on the road of life, giving a reliable ride and additional support to those who have fallen upon misfortune or endured catastrophic, unforeseen events.  We strive to help create success where failure may have seemed inevitable.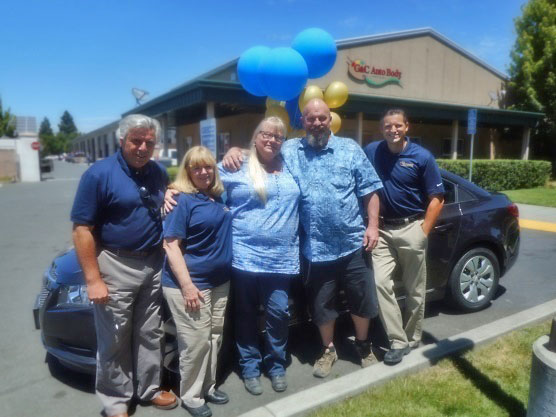 If you, or someone you know is in need of a car please fill out the attached form and send it to us. Please understand that we cannot help everyone. We will consider those in need and help the ones that we can and that we believe will move towards a path of success with assistance. 
The Car-A-Month program is designed to help those in need with a material benefit that helps them every day. A car helps individuals, families and the community as a whole. G&C is happy to be able to give this fantastic benefit to the community. You can join this effort, make yourself proud, and get a well deserved tax deduction by donating a car in need of minimal repairs to help with this program. Thank you to all the participants, recipients and communities for letting us be a part of the giving process.
It takes a team.  We've got a great one!
The Car-A-Month program has grown by leaps and bounds.  What started out as literally a car a month has grown to three or more cars per month in Sonoma County!
This has been made possible by the wonderful team members who have so generously joined us.  G&C Auto Body COO, Shawn Crozat, spends many hours arranging donations of vehicles from many insurance companies.
Also, local radio stations donate air time for the giveaways, several of the G&C Auto Body shops have refurbished vehicles for the foundation, and parts and supplies vendors have donated parts and materials for the repairs!
We could not have accomplished giving away over 80 automobiles in three years without the help of our fabulous team! Many thanks to all the participants, recipients, supporters and communities for letting us make a difference in the lives of so many individuals and families!
Meet Some of Our Recipients: