by Ed Attanasio
Gene Crozat, the owner of G&C Auto Body known as a fierce business competitor to surrounding shops, has always done everything in a big way. If you ever visit any of his 10 Bay Area locations, you'll see they look more like The Bellagio in Las Vegas than a body shop. Crozat is already legendary for generously donating money, clothing and other items to 
families throughout northern California, for no reason other than to know he has helped someone. He is also well-known for his Meter Beaters Program that takes place every holiday season as he covers peoples' parking fees in downtown Santa Rosa, CA—a program G&C has sponsored for the past 20 years. But, now the man and his family are fast-tracking and increasing their charitable efforts, by giving away more cars and more cash for people and organizations that need it.

For example, last year the Crozat family made record-setting pledges to the Christmas Wish program and The Children's Village, as well as many smaller donations to local community non-profit organizations including Men-R-Pigs, Becoming Independent, the Jon Michael Martin Medical Fund and the Boys & Girls Club of Marin, local Boy Scout troops, softball leagues and elementary schools.

Recently, Teri and Gene Crozat  sponsored a trip to Disneyland for 14 of the staff and all 24 kids of The Children's Village in Santa Rosa, as well as donating an entertainment center in their existing rec room. They also donated the use of the company's luxury suite at a Giant's game, including 12 tickets, as an item for the annual auction at The Children's Village Gala, raising $6,000.

The Children's Village of Sonoma County provides nurturing, family-style homes for children and siblings in foster care. Opened in August 2006, The Village currently consists of four large houses serving 24 children, and four apartments for seniors who act as surrogate grandparents.

As another way to help the communities surrounding G&C's locations and take advantage of the availability of technicians and connections to parts dealers, Gene started a Car-AMonth Giveaway with the help of local radio stations, receiving hundreds of letters from listeners in the Santa Rosa, Ukiah, and Fairfield areas. G&C gave away six cars last year to those in need and is on track to donate 18 cars in 2013, all of which are purchased at the Car Mart at the Sonoma County Fairgrounds and then refurbished by the techs and detailing team at G&C. In some cases, Crozat repairs cars that nominated people already own to make them drivable and dependable.

As he meets these recipients and gets to know them, Crozat has also helped many of these families in their daily lives, helping out with bills, handing out $5,000 worth of $100 Safeway grocery gift cards with $5,000 more ready to go, gas cards,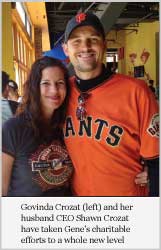 taking families shopping for clothes, paying for weekly stays at hotel rooms, "door ditching" with envelopes of cash to needy families and other acts of kindness, according to Govinda Crozat, the company's Outreach Director and the wife of Shawn Crozat, G&C's Chief Operations Officer.


One of the first recipients of G&C's giveaway program was Morgan Weatherly, who submitted this letter last December. "My name is Morgan. I am a single mother of four beautiful smart, good kids—ages 17, 7, 3 and 18 months. We live nearly 20 miles out of town; out in the country and nowhere near public transportation. Having a reliable car is critical in our situation. Lack of reliable transportation has been a huge source of stress and hardship over the years. My 7-year-old daughter was born two months premature and at one point I had to hitchhike to deliver "pumped" bottled breast milk to her while she was in the hospital. I have health issues and must travel to U.C.S.F. Medical Center in San Francisco once a week. All my kids go to different schools because of their age differences. I also take care of my mother who is ill and without transportation. I take her to all her doctor's appointments. I would be so grateful if someone can help me to get a good car or van. I will give back in any way I can. I would be willing to work for free at your shop, cleaning up, etc. I hope you can help us."

In January, out of a huge stack of letters read by several people, Weatherly was chosen to receive a used Town and Country, as well as a paid job at a G&C location.

Brad Snell, another vehicle recipient, is a student at Santa Rosa Junior College studying to work in the human services/advocacy industry. Last year, he finally gained custody of his 15 year-old daughter Destiny and in January after complaining that she couldn't see they discovered that she needed emergency brain surgery. The surgery was a success, but there is still a mass on her brain that requires regular tests performed in San Francisco, a 1.5 hour trek from Santa Rosa.

When a friend wrote to a local radio station promoting the G&C Auto Body Car-A-Month Giveaway, Self was completely unaware of all the wonderful things that were about to happen to him and his daughter. When he got the word, Snell was shocked and actually on his way to San Francisco with his daughter for more tests, in a borrowed car.

"I can't believe that a man at a body shop could do something so amazing for us," Snell said. "We were really struggling to get to San Francisco and Gene Crozat gave us more than just a car—he gave us the confidence to make all the appointments. Destiny is doing better now, but there is still work ahead. But, having reliable transportation has made it so much easier. Every time I get in this car with my daughter I say a little prayer to the people at G&C."
Gene Crozat has built a large, successful business and now he wants to enjoy his grandchildren and perform charity work, as he slows down but never stops when it comes to giving back, he explained.

"I tell my kids if they want to open new locations, go for it, but my goal is to help as many people as I can while I'm around. I worked hard for many years and now this is how I find happiness. In the end, you can't take it with you."

Shawn Crozat learned the business from his father and he shares his passion for every aspect of the collision repair game and all of the opportunities for philanthropy that can come with it, he said.

"My father has always taught us to pull for the underdog and for years he has been hiring ex-convicts and addicts to give them a real chance at earning a living for themselves and their families. Now that he has grandchildren and is slowing down a little bit, he notices the downtrodden nature of those in need more than ever, especially children and families with illnesses, single mothers, etc. He has become more and more generous every day and it's amazing to watch." Gene Crozat of G&C Auto Body Can't Seem to Give Enough, Fast Enough